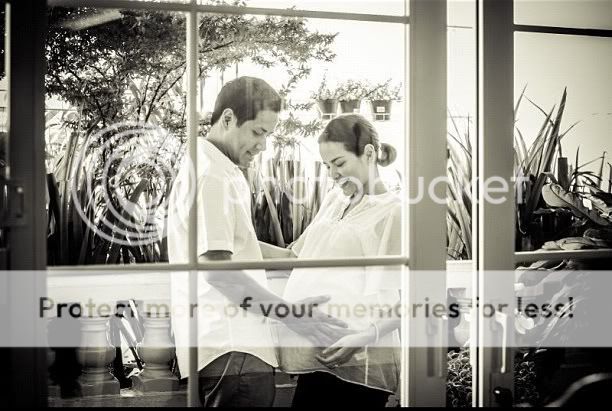 The very pregnant 'Aom' Piyada Akarasene stated on the Woody morning show last month that she wanted her yet to be born daughter to master dancing and singing because those are two areas she is terrible in.  Aom doesn't care if her daughter will like or not, she has to master singing and dancing to compensate for her own lack of talent in those areas. Especially with singing, even her husband Art has forbidden her to sing to their child because she always sings out of tone. He would tell her 'Don't, Stop!' when she tries to.
Aom also noted that she has never been this big in her entire life, she can eat anything and doesn't stop herself. Before she weighed in 45 kg (99lbs), now she weighs 58 kg (127lbs). She swims and does yoga while pregnant to stay in shape. Her husband Art talks to their unborn child often while she argues with their daughter to stop kicking so much. When they did an ultrasound picture of their daughter, Art told their daughter to smile and she did. Because he talks to their daughter so much, she is used to his voice, said Aom With her, Aom joked, she probably wouldn't listen because they argue so much. Aom constantly tells her daughter to stop kicking.
They plan to have only one child, they are active people and it would be convenient for them to have just one child, said Aom.
I found Woody's question about sex during pregnancy extremely hilarious, he is totally clueless. Their conversation on that topic at the 19:00 time mark.
Woody:'This is a thing I really want to know, I do apologize, I have to ask Aom. When you are pregnant, for several months, they don't let the parents bump-bump (in other words 'sex'), the doctors forbid it, right?'–Woody does the 'x' sign with his hands
Aom:'They let you!'
Woody stunned:'Really?'
Aom:'Really, they let you.'
Woody:'I thought they forbid you, doesn't it endanger the child.'
Aom:'NOoooo (in English). They let you. The first 3 months, they don't. You shouldn't the first 3 months. After that, you can.'
Woody still curious:'Up to the ninth month?'
Aom:'You can up the ninth month, but truthfully around the 7th-8th month, you should stop.'
Woody:'Aww? From what I learned, doesn't the child get tinged'–I guess he means intruded and then a miscarriage.
Aom laughing: 'No.'
Woody:'Well, I don't know. I have never been….'
Aom:'No, they are in their own water area in the womb, they have their own exit. We only go up enough to the exit. We don't go up to them'–what the….oy.
Woody says 'aww' now he gets it.
At this point, Aom is 9 months pregnant, her due date is roughly around the end of the month of May. Now, if she passes her due date, she has a Cesarean section scheduled for May 21, 2012. Aom is superstitious, she chose that day because it is an auspicious day for her daughter. Now if goes into labor before May 21, she will have a natural birth.