In most cases, the groom vows to defend and care for his bride–not with Chai and Vicky, she is the one making that vow and he is the one doing all the crying.
'Vicky' Sunisa Jett married her long time beau of 5 years 'Chai' Chatayodom Hiranyatsathiti at  Hua Hin on May 4th, this is the second part to their wedding, the reception, at the Mandarin Oriental hotel in Bangkok.
Their interview:
Chai: Today I am very excited, so I cried because I was deeply moved. Since I was a kid I have always wanted a family, but I have never paid attention to it. I became indifferent towards it. But when that day came I was deeply moved by it. It's nothing that I have ever experienced before, most importantly I have someone that love and we are becoming one.
Vicky: I am very happy ka. I tell my friends and family everyday. My chest is about to burst, there is no way I can be more happier than this.
Chai feels that having wife is the next stage in his life
Chai: Yesterday I went shopping, someone came up to congratulate me and asked if my 'wife' came along too? When I heard the word 'wife',I have never had that word before, it felt great–like I have graduated to the stage. I have become a blessed person now.
Vicky: As for me, I feel happy to have a husband now (laughs). I am happy because my life is more secure. The word 'husband' is a new awareness.
About her wedding part 2.
Vicky: As for the wedding today, it is like the wedding at Hua Hin. P'Chai likes white flowers and there are candles because I love candles–it's very similar to the wedding at the beach.
Chai: Kee (Vicky) took care of everything for both events. I just waited to admire the final  product. I was already impressed with the Hua Hin event. I will be impressed until my final days. I never thought it would make my life this happy (starts to well up with tears)
Vicky wore 3 dresses, the morning dress she designed herself. She chose her own ring, a 2 carat diamond ring.
Their vow and promises to each other:
Vicky: I love P'Chai ka, he is my everything in my life. I love him the most ka.
Chai:As for me these past 5 years…today is our 5th year anniversary, May 16th. That is why I chose this day. I have always told her I don't feel alone anymore (cries) I have found happiness. We have never sat down and give vows to each other. Time has shown me how happy I am to be with her. It's grows daily. Not only do we have love, we have a growing bond.'
Vicky:I want to watch over P'Chai to the best of my abilities, take care of his everything. Not only is he my husband, he is my friend.
Chai: Normally, she takes care of me. She gives me food, she always buys me food. She takes good care of me in every area. From the incident that happened more than a month and a half ago, it has shown me I have a friend to think and make decisions with. A lot of people have told me before the wedding, there will be many proofs like fighting, but up to this day we have conquered those obstacles. It has made me realized I have a friend to think with.
Cherry–Rome and Rita
Rita and Pong
Actress Taew is the center of Rome and Rita's heart.
Margie Rasri and her boyfriend Thong posing with the bride and the groom.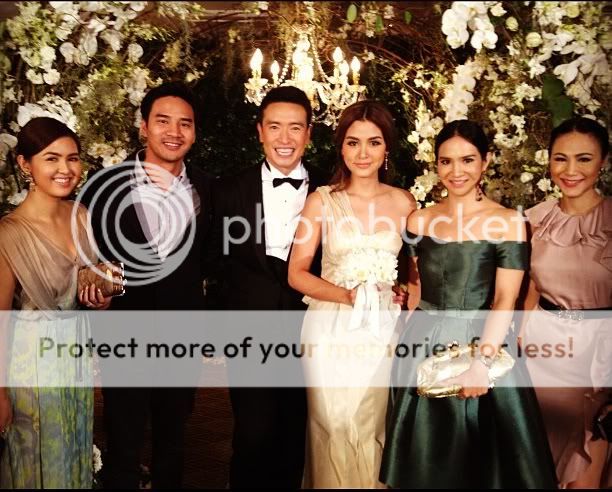 Producer 'Ja' Yossinee Nanakorn with Nott and his sister Nan.
With Ploy Chermarn
With their close friend Aff and Songkran.
Aum Atichart and gf Nat Myria
With the bridesmaid
Cutting the cake with a sword
Pictures from their May 4th wedding.
 Going to meet the press
Source
http://www.manager.co.th/Entertainment/ViewNews.aspx?NewsID=9550000060351
http://rakdara.net/overview.php?c=2&id=25335
http://wedding.kapook.com/%E0%B8%87%E0%B8%B2%E0%B8%99%E0%B9%81%E0%B8%95%E0%B9%88%E0%B8%87%E0%B8%94%E0%B8%B2%E0%B8%A3%E0%B8%B2-41050.html
http://world.kapook.com/pin/4fb3ce1038217a9e4c000000