One of the things I like about this lakorn is the interaction between the son and his father's mistress, the insults he throws at her, it's entertaining. He called her a termite queen instead of a real queen–you want to be crowned  a queen, but really you can only be a termite queen. Good times. He sees her game and he out to expose her to save his mother–though his mother is kinda loony.  You feel bad for kids, they are caught in the middle of this war between their mothers.
It's like over 5,000 words, I did not proofread this.  Enjoy.
Kao has a job to do–being an entertainment reporter getting the scoop and interviews, she is good atit  but when it comes to her mother– interviewing her is not so easily task for our nang'ek Kao. By all means necessary her Editor Ja told her, she must snag the interview with Khun Papit, Kao's biological mother. Kao stands in front of Khun Papit's gate, contemplating her next move–to ring the bell or not. She is mentally preparing herself to interview the woman who abandoned her.
Kao:'It's just work Kao, she has nothing to do with you. Don't be weak.'
The housemaids see her in the security cameras–they think she is a prostitute sent over to satisfy Khun Arak from Khun Chalem–what!? Khun Papit's friend Khun Chalem is actually a Mama-san (female pimp, a madam), her beauty salon is a cover for her real profession. WOW.
Khun Papit comes down to see the commotion and recognizes Kao on the screen as the reporter. Khun Papit invites Kao into her home. Kao tries to maintain her cool. Khun Papit takes a good look at Kao and pauses for a long time–like Kao is a person she knows. '
Kao:'Is there something strange about me?'
Khun Papit:'No, it's just that you were quiet.'
Kao compliments Khun Papit on her beautiful home.
Khun Papit:'I don't like this style for a home, but the general likes it.'
Kao shakingly:'What style do you like then?'
Khun Papit in a somber state:'Before I liked big houses, but when I began to live in one, it's too big. If there were kids running around, it would be better.'
Kao:'Khun Papit, you want kids?'
Khun Papit:'Yes, I want kids, he also wants kids but we never had one.'
Kao:'A kid who is your child would be very blessed.'
The compliment makes Khun Papit feel uneasy because she knows she has done wrong by her kids.
Khun Papit provides Kao with a drink, a special herbal drink that she made–the pandanus juice (nam bai toei). The drink triggers a memory for Kao of when she was young, her mother made the same drink for her and her brother Kaew–encouraging them to drink the juice–it taste good and healthy better than drinking sodas, she was told.
Kao stares at the drinking and Khun Papit wonders if Kao doesn't like this type of drink. Kao tells her, she does, her father makes it all the time for her. Khun Papit asked if her mother does that too, Kao lies that she doesn't have a mother.
A servant brings a slice of cake for Kao and she can't take any more and decides to abruptly flee.  'Excuse me, I'm sorry, I am not feeling well.'
Walking home, she has  a flashback of when she was young and wanting cake at a store, her mother told her she would buy the same cake for her on her birthday. Kao is emotionally distraught and crying.
Suang drives by and nearly hits her by accident. Sup jinga.
'I'm sorry, are you okay?'
The drives her to her street and she thanked him for not hitting her.
Suang:' So the reason why I drove here was to see you cry?'
Kao:'Then what do you want?'
Suang:'Why were you crying over there?'
Kao smiles tauntingly at him. 'Aye, you are strange. When you want to cry, you can cry anywhere.'
But not near Khun Papit's house, he argued. He takes out her wallet from his car. 'I suspect Papit made you cry. What is it? Papit made you cry didn't she.'
Kao:'That has nothing to do with you.'
Suang:'But I have the right to suspect you are Papit's child. If you want your wallet back, you must tell me the truth.'
Kao doesn't say anything, he takes money from the wallet and hands it her. He drives off as she brings for her wallet back.
Kao:'Oh no, I shouldn't have put the picture in my wallet, now everyone is in danger.'
Khun Papit remembers a time when she was struggling mother, her husband was neglectful, caring more about other people's issue than their issues. She remembers a time when Kaew was very ill, vomiting nonstop. Instead of staying home to care for his son and helping his wife out, Kao's father ditched them to help another man who got into a car accident.
She receives a call from her father and she tells him her son is very ill and instantly her father asked for her husband–he is probably not home, probably caring for other's people's problem than his family's issues, her father accused him. 'A man like that, how can he lead a family,' her father yelled.
To the present, Khun Papit says to herself: 'I must be the worst mother ever, but do you know my children, when I think about when I abandoned you, I really miss you Kaew and Kao.'
Dude, why are you hiding in the bushes? Don't stalk, it's not a cool trait but most pra'ek do it. Suang now knows that Kao  is really Khun Papit's daughter when he sees her enterting Khun Papit's old house. 'So you are really Papit's daughter.'
Kao comes home and is snappy with her father who asked about the guy from earlier (Suang).
Kao:'He was probably here about mom.'
Khun Krirk:'So that means he was here to get info to hurt your mom, oh that is a good thing that you called to warn me. If not, I might have said something and unintentionally hurt your mom.'—Dude, she left you. Air out all her dirty secrets. You are too nice.
Kao in her room in tears:'No matter how long time as passed, Dad has never stopped loving mom. Will there ever be a day when mom will miss dad?'–probably not, she hates him because he was  a neglectful husband.
Kao overhears her co-workers Nick and Mae-yom arguing about her mother while listening to a recording of her mother and Khun Ying Suda's fight from a few days earlier. Mae-yom accused the Khun Papit of taunting Khun Ying Suda with the 'miss you' text.  Khun Papit texted Khun Arak first and then received the 'miss you' text and then taunted Khun Ying Suda with it. Nick argued Khun Ying Suda is the psycho one who thought too much of the text. 'She probably texted him to see what movie they should watch and he texted her 'Miss you ja', that's probably how it went.'
Mae-yom doesn't agree, she thinks Khun Papit is causing all the problems and hurting Khun  Ying Suda.
Mae-yom:'People like that are EVIL.'
After hearing that, Kao can't bear to go in. 'How long do you have to endure people insulting your mother Kao?'–I don't know, for a while I guess. Your mama is kinda shady.
Khun Ying Suda is at Khun Chalem's salon talking on the phone with her friend, insulting Khun Papit saying that Khun Papit tried to record her acting out and beating her, but she didn't do it, so the mia noi lost face. Khun Chalem let Khun Papit listened to Khun Ying Suda's conversation via her phone.
Khun Papit can't believe what she is hearing, heffer is lying. She did attack her, so Khun Papit decides to upload the video clip of Khun Ying Suda going psycho on her on youtube. Doesn't this remind you of something—Pinky and Tanya.
Kao is at the office, her boss Ja wants everyone to get all the juice they can about the Khun Ying Suda and Khun Papit scandal—their readers love it. Kao looks down, not wanting to be involve in it. When her boss Ja learns she did not get the interview with Khun Papit, she gives the job to Mae-yom.
Mae-yom is excited and tells Kao: 'if you don't want to write about this, I'll do it. I hate mia nois (mistresses).'
Kao tries to defend them. 'Why do you hate them? They probably have their reasons.'
Say what?
Mae-yom:'What else is there, other than wanting something that doesn't belong to you.'
Kao:'Why do you say that? You are a woman too. Why don't you yell at the guy. This type of issue, both are in the wrong.'
Mae-yom:'The person who is most at fault is the unashamed woman. No matter how much the guy pursued her, if she knows shame, she wouldn't play along and the issue would end. But the reason it doesn't end is because of a thing of a mia noi.'
Nick senses tension and tells them to cut it out, why are they arguing about other people?
The clip it out on youtube and getting a lot of attention, Suang learns of it from his colleague Nop. Khun Ying Suda reads the comments with Sook and her other friend.  She is getting trashed badly by Thai netizens calling her old and saying they would choose the mia noi over her any day.
Everyone is trashing her except one magazine–Star In Trend magazine, Kao's magazine.
Khun Ying Suda decides to use Star In Trend to battle Khun Papit, she goes to find Mae-yom who wrote a piece siding with her and trashing Khun Papit.
She wants Mae-yom to write an article for her, trashing Khun Papit, and she will gladly pay Mae-yom for it.  When Mae-yom refused saying their magazine is a honest magazine, they write the truth, Khun Ying Suda accused Mae-yom and the magazine of plotting against her. They were the one who leaked the video clip, so they can write more trash about her. They accused Mae-yom of being Khun Papit's people, Mae-yom can't believe what she is hearing.
These people are NUTSO!
Khun Ying Suda wants to sue her too because she remembers that she was there too when the fight occurred.
Kao and Nick hears the commotion and came over to help Mae-yom. Instantly, Khun Ying Suda recognizes Kao and Nick.
Khun Ying Suda threatens them, if they don't write a piece trashing Khun Papit, she will sue them. Say what.
Kao:'Sue us for what?'
Khun Ying Suda:'Sue you for getting paid by Khun Papit and leaking the video clip to damage my reputation, that's what.'
Kao:'If you have proof, then you can sue us. But I believe that everyone in Star in Trend did not do anything incriminating and I also have the right to counter sue you back because what you are doing right now is coercion.'
Khun Ying Suda and her posse can't believe what they are hearing. They warned Kao they have no idea who she is messing with.
'You know who I am?'
Kao:'You are Khun Ying Suda, the wife of General Arak who is currently famous for the leaked video clip.'
BURN.
Before she left, Khun Ying Suda accused Kao of being one of Khun Papit's people and she will sue them. 'See you in court.'
Kao vows to get them back for degrading her profession accusing her of being someone's puppet.
Suang gets a call from his dad about his mother going to the 'Star In Trend' magazine's headquarter and causing problems. The dad is embarrassed and tells his son to handle it.
Suang thinks this all Khun Papit's doing but Khun Nop tells it might not be. They don't know who leaked the video clip, it might be someone who was there too. Ting! If it wasn't Khun Papit, he suspects it's Kanaree (Kao). He gives her a call, she doesn't recognize the number but picks it up anyways. Sup.
Suang:'What did you do to my mom? You really what to do it, you want to sue that person and this person.'
Kao:'That person, this person, who do you mean? There is nobody until now who I want to sue which is Khun Ying Suda.'
Suang:'That's right, you work for Papit…no…to say it right would be, you are working for your mother.'
Kao is stunned and uttered in name 'Suang' is shock.
Suang:'I probably said something cruel, my father didn't give your mother enough money, so you suing my mother for more money.'
Kao:'You can only think up something that simple, I want to tell you if I plan to do something, you wouldn't be able to follow it.'
Suang accused Kao of being deceitful and cunning, just like her mama. 'Listen to me well, if I am still living, you won't get any money, not one bill.'
Kao:'You too, you are just like your mother, you think irrationally. The only think on your mind is evilness. You don't need to be concern about your mother, you need to be concern about yourself. The next person I sue is you.'
She hangs up on him. Tension much. Kao comes back to her desk and vows to get the interview from Khun Papit–she will not hide herself from the gossip anymore. She will confront it–'If I was to now it, I will know it. If I was to see it, I will see it.'
'The truth is the truth.'
At a purse store, Khun Papit and Khun Chalem are talking about the drama involving the video clip, she receives a phone call from Kao asking for an interview. She refuses to do the interview–whatever  subject it may be, she will not do an interview at this time.
Khun Chalem wonders why she didn't take up the offer for an interview to trash Khun Ying Suda more, Khun Papit explains it part of her plan—she doesn't want to do too much, people might talk–there has to be a balance. Too much drama can look bad.
Khun Papit: 'If you want to play with the media, you have to know how to use the media.'
Khun Papit decides to check herself into the hospital for emotional distress over the scandal. Suang reads the headlines and accuses Kao of planning all of this. 'So deceitful, this is all your plan Kanaree.'
Kao reads that her mother is in the hospital and is concerned, Nick advises her to go check it out–visit Khun Papit just in case something interesting happens–like Khun Ying Suda attacking KhunPapit with slaps at the hospital.
After hearing that, Kao leaps up to go defend her mom. Outside her office building, Suang is there. Sup.
'Why are you blocking my way? Move!'
He refuses, blocking her way each move.
"I will not move aside, you are probably in a rush to go to the hospital to warn her someone has caught on.'
Kao:'What are you talking about?'
Suang:'This all part of your plan with your mother, one article is not enough–if you pretend to be ill, more reporters will want an interview, more articles will be written.'
Kao:'Are you crazy? Why do you keep alleging that I am Khun Papit's daughter.'
Suang:'Alleging?'
He takes out her wallet and opens up it up to show a picture of herself as a child with her mother Khun Papit. 'Then what is this, who is this with Papit?'
Kao tries to take her wallet back. 'The woman in the picture is not Khun Papit.'
Suang enraged:'How dare you argue with me, you can clearly see it with your two eyes it's a picture of Papit.'
Kao yelling:'I told you it's not a picture of Khun Papit!'
Suang:'It's not a picture of Papit, but Nudee. Can you deny it that this is not a picture of your mother?'
Kao begs for her wallet back. 'Please return that to me Khun Suang?'
Hell no.
'Until you accept that Papit is your mother. Also, if you are  still affirming you are not her daughter, don't go visit her then because there is no need.'
See ya.
Kao is depressed after the fight with Suang and his warning to not visit Khun Papit. She agrees.
'That's right, since I have nothing to do with that woman, I should not bother with her, just get the scoop, that is it Kanaree.'
Khun Papit feels alone and scared at the hospital, she receives a phone call from Khun Chalem, she has a lot of customers and can't visit. She asked if General Arak visited her yet. 'No, not yet.'
Khun Chalem:'That's good, you can talk to your friends first. When they leave, he will come and you can get some private time with him.'
Hanging up, Khun Papit sighs:'Talk to who, no one came to visit. If I was really sick, what would I do.'
She calls General Arak. 'Sir, I am alone, please come see me.'
Suang takes the picture out of Kao's wallet. 'Those two mother and daughter pair they are more dangerous than I thought, especially you Kanaree. No matter how you come at me, I will not surrender. My mother will not be hurt because of you two again.'
The next morning, Suang learns from his distress mother that his father stayed overnight with Khun Papit. Suang tells his mother in the past his father might be at fault but this time, he suspects this time his father has fallen under Khun Papit's trickery.
'Papit might not be really sick, she checked herself in the hospital to get sympathy and interest.'
Khun Ying Suda:'Yea, why didn't I think of that.'—I don't know, you're irrational and kinda loony.
Suang:'Mom, I will investigate this myself. I will do everything to expose that woman's true form. I feel confident dad will not choose a pebble like Papit over a diamond like you mom.' Barf. Your mama is crazy guy.
Suang goes to visit Khun Papit at the hospital, Kao spots him and takes a picture. She follows him.
Kao:'If anything happens to Khun Papit, you will be the suspect, Khun Suang.'
Suang arrives at Khun Papit's room to find his dad there. He listens to their conversation–his dad is offering to take Khun Papit to Europe after she gets out of the hospital. Old people. Geez.
'I will not go anywhere.'
'Why not? If not Europe, where do you want to go to feel better?'
Khun Papit:'I want leave the hassle.'
General Arak takes her hand and vows to protect her from Khun Ying Suda, Suang hears everything and tilts his head. Say what dad?
Khun Papit:'These past 10 years, I know it will never happen. What I do know is that I have to leave you, sir.'
General Arak:'NO, I will not let you go.'
She takes his hand and places it near her face. 'Let me go, if I wasn't around, there wouldn't be any problems between you and her.'
In with the fake tears. In the background, Suang is slowly nodding his head with annoyance, gosh this deceitful woman he is probably thinking.
General Arak:'If there wasn't you, she would still cause problems for me. I beg of you, please don't leave me.'
Khun Papit:'But I have made my decision. Please leave me alone ka.'
He tells her he will be back when she is felling better. She told him, don't bother, she has decided to end their relationship. 'Do you know, I feel deeply hurt to remove myself from the person I love the most in my life.'–Fake tears again.
Khun Papit turns away from General Arak and Suang slips away. Hiding from his father, he is found by Kao going into Khun Papit's hospital room. She goes in to listen to their conversation.
Sup.
Khun Papit:'Thank you for visiting me.'
Suang:'You better be sure on what you said to my father.'
Khun Papit:'But you heard it that he is refusing to end it.'
Suang:'I knew it, it's just a trick to get sympathy from my dad. If you really wanted to end it, you would have sold your house, moved out of the country or completely end all communication with him. Just that, it would end it. But what you are doing now, this is a game. But sorry, this game you will not win, my father will never come back to you Papit.'
Khun Papit:'Really now?'
Suang:'Everyone who is overly confident with themselves, they fell off their high horses and died.'
He leaves.
Khun Papit:'Every rule has its exceptions and I am one those.'
Kao runs up to Suang as he is leaving. 'What you have done, it's not very gentleman-like.'
Suang:'I knew it, I wasn't wrong, you would come here.'
Kao defends herself. 'I am a reporter, I came her for my work.'
Suang:'That's right, you came here to see if your work has succeeded. The mom ends it so that the daughter will take her place as the new prostitute.' –That was harsh.
Kao:'Wicked. All you think about is wickedness.'
Suang:"That's right I am wicked But I am evil to protect my mother different from you guys who are evil because you want something that don't belong to you.'
Kao drives to her mother's house and looks around at the beautiful residence. 'Because of this mom, you allow yourself to be insulted, without dignity, but right now it's not only you mom, it has fallen to me. I  have been criticized as being wicked too.'
Khun Ying Suda and Sook plot to taunt Khun Papit. A coffin is sent to Khun Papit, causing her to be deeply upset. She faints and General Arak came by to console her.
She plays it up. 'I don't understand it, I live modesty in my own corner, KhunYing is still upset and have caused you to be upset. I have to leave when I really loved you, I don't understand why she has done this to me.'—cause you are the mia noi.
General Arak apologizes to Khun Papit.
Khun Papit:'What does she want me to do? To die and leave this earth?'–Yea.
Genearl Arak assures her he will handle it. 'I promise this will never happen to you again.'
Later that day, General Arak confronts his wife Khun Ying Suda. Before he was thinking about ending it with Papit and being with her. After the coffin incident, he now knows he made the wrong decision. Khun Ying Suda said she didn't do it, she has no idea what he is talking about. He told her to stop pretending like a 16 year old. He is through with her starting today.
Khun Ying Suda didn't do it and wonders if Sook did it. Sook said she didn't send the coffin–that kind of stuff scares her. Who did it?
Since Sook didn't do it, it must be Khun Papit. She sent the coffin to herself to get sympathy, part of her act. Khun Ying Suda walks out to her son crying. 'I am going to kill her.'
She relays the story to her son on how Papit sent herself a coffin and blamed it all on her. Now her husband is leaving her because of it. 'Your dad blames me and asked to break up to be with her. I am going to kill her.'
Suang tells his mother to stop. Khun Ying Suda begs her son to convince her husband to not leave her and that she didn't do it. He hugs his mom. Tough situation.
Suang calls Kao. 'Hey Kanaree, I once told you, if my mother is hurt, you will hurt more. The coffin that your mother sent to herself, she will definitely use it. You can follow me to collect your mother's corpse.'
Time for the confrontation between Suang and his father's mistress.
Khun Papit:'If you came to see him, he is not here.'
Suang:'That's good. I can meet your demands without my father interfering.'
Khun Papit doesn't understand what he means. 'What are you talking about?'
He approaches her as she steps back. 'Since you brought yourself a coffin, I will make you use.'
He drags her by the hand and she orders him to let her go.
Suang:'You brought yourself a coffin and blamed it on my mother.'
Khun Papit:'Because Khun Ying is your mother that is why you believe her.'
Khun Papit:'I am not that crazy. I am wrong that I came after, but the person who came after can hurt too, you know.'
Suang:'Let quickly LEAVE! Then you won't get hurt. In the past, no one asked for you, you toiled your way  here.'
Suang looks around. 'But I have to say, it's worthwhile because all this wealth, a person like you, this life or next will never be able to earn it.'
Khun Papit:'KHUN SUANG!'
Suang:'What? What did I say wrong? Is it not because of all this wealth that you have abandoned all your dignity to become my father's mistress.'
Kao listens in as Suang insults her mother.
Suang:'You are pretendingwith your collar upright to be the queen, but a person like you can only be termite queen Papit!'
Kao can't take this anymore and runs up to intervene. 'Stop it right now Khun Suang, stop insulting other people.'
Suang pointing at Khun Papit:'Insulting? Who am I insulting when that woman did it to herself. A woman who abandoned her husband and children to be a mia noi (mistress), what's so respectable about that? If I was this woman's child, I would not even look for anyone to blame, I would burrow my face in the ground and not be able to face anyone.'
Khun Papit faints and Suang glares at her with no sympathy.
'I don't talk to people who are dead, throw her in the coffin. Don't keep it, it's ugly to look at.'
See ya.
Kao hugs her mother, she cares for her–wiping her mother's face with a wet towel. Khun Papit wakes to find Kao.
She asked for Kao's name, she lies that it's Gaang. Khun Papit begged Kao to not write about this for her magazine. Kao argues if she did, Khun Papit will get a lot sympathy from the readers.
'People would know you are the unfortunate second household.'
Khun Papit:'I understand Khun Suang."
Kao:'I don't understand your reasoning, I would never let anyone insult me like that.'
Khun Papit:'People who are given the change to walk and progress…they will never go back. No matter what spikes are head, they move forward.'
Kao:'You can endure it…but have you thought about your children, right now they  might be like what Khun Suang said ashamed that they have buried their face under ground.'
She quickly leaves.
Parked at the edge of the river in their own world, Kao and Suang pondered about what had transpired.
Kao:'Nonetheless mom choose the easy life when her easy life is under the pit of fire.'
Kao needs to get an interview from Suang, he gives her a hard time, telling her to come by to set an appointment. When she arrives, he tells his secretary to pretend he left.
As she is leaving, her boss Ja phones her to see if she got the interview from Suang, she needs to snag this interview because she got the news that Khun Arak has asked Khun Ying Suda for a divorce.
General Arak texted his wife for a divorce. His wife immediately calls Suang.
'Suang, you have to help me. Your dad is asking me for a divorce via a text message.'
Kao bumps into Suang in the parking garage, she has been calling his name but he refuses to respond to her.
Kao:'You have no manners, you can't even apologize.'
Suang:' Apologize for what, it's you who should apologize, you were the one who ran here and bumped into me.'
Kao agrees: 'I can apologize. Now when you made an appointment with me for an interview and stood me up what do you call that?'
Suang:'When did I give you an appointment, I only said for you to ask one from me.'
Kao:'YOU!'
Suang:'You should beg me Kanaree for me to give in for you to go back on your word.'
Kao:'If I have to take back my word, it would be worthwhile, if I got the opportunity to interview you about your father asking your mother for a divorce.'
Suang:'Oh that is for your mom to be the number 1 wife and for you to be the mia noi (mistress) in her place ha?'
Kao slaps him: 'You are so rude!'
Suang. 'Nonetheless I am the rude person. I want to speak to your straightforwardly.'
He looks her up and down.
'Before you become my father's new mia noi (mistress), let me enjoy you first.'
He goes in for the wtf force kiss. The hell. So ugly. So fake. She slaps him. Ha.
Enraged, he drags her into his car. I don't get this part, how the hey can she not escape?
They go on a fast drive and they fight over the steering wheel. 'Hey do you want to die?'
Kao:'Better to die than be with you. Stop the car.'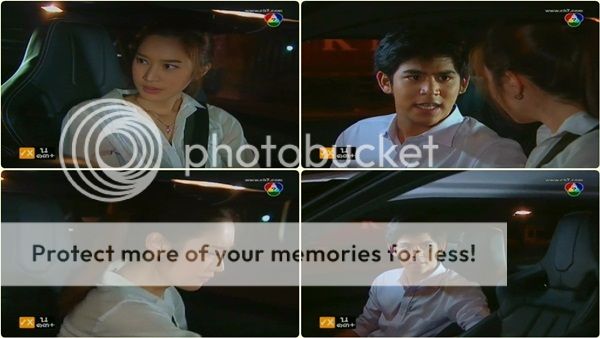 He stops the car. 'You are only good at bullying woman.'
She unbuckles her seat belt and he stops her. 'You can't go anywhere yet.'
Kao:'What are you gonna do to me?'
He holds her face up. 'What do you think I am gonna do to you? Know this well, I don't like you at all. I am repulse by you.'—you won't be annoyed too long Mr.Pra'ek.
She stares at him.
Suang:'Why are you staring at me. You are probably disappointed, this didn't go according to your plan.'
Kao:'What plan?'
Suang:'To enrage me, to make me angry, to pull you in as my wife, in the end you would blackmail me and demand things from me.'—Say what?
Slap.
Kao:'I am just doing things befitting for you. I will never let my father divorce my mother. A person like your mother in this lifetime can only be a kept wife, a prostitute–only that.'
Kao steps out of the car in tears. Suang watches her run off. She arrives home in tears and lies to her brother nothing is wrong. Her fathers think she is probably having boy problems.
Sorta.
Alone in her room, she repeats to herself, she hates Suang!
Back at home, Suang wonders to himself how he could have done that. But regardless, he believes he did nothing wrong. Kao is like her mother, she won't wear away. He should only be  concern about his mother. No one else.
Suang's mother is weeping in the living room, she shows him the text from his father. His father is asking for a divorce and his freedom. Suang suspect it might not be from his father, maybe Papit sent it like how she leaked the clip.
Suang wants his father to reconcile with his mother–he blames the leaked video clip on Papit and accused her of sending the divorce text message.
General Arak:'I sent the text Suang. I sent the message to your mother myself.'
No way.
General Arak wants his son to feel sorry for Papit, she is a pitiful person who needs sympathy. The bad person is his mother. Suang asked who has made his mother sinister. Isn't it his father and Papit, he asked.
Suang:'A woman who abandons her children, her husband to find wealth and comfort, how is she a pitiful person needing of sympathy. That woman can not compare to the pinky nail of my mother.'
General Arak:' That woman does not yell at me, she respects me, she cares for me, gives in to me. She worries for me and most importantly she understands me. Your mother who is good is only good at crying out demands for herself.'
Suang:'Mom is not crying demands for herself, she is doing it for me. She is crying out for our family to be like before. A family that does not include that woman.'
It ends like that.