I keep forgetting, Thailand time is a day ahead of the east coast US. Just a few hours ago, actor  Puri Hiranpruk and actress 'Ann' Alicia Laisuthruklai's got engage in front of close friends and family at the Mandarin Oriental Hotel in Bangkok. Ann wore a traditional Thai style cream and pink dress and Puri wore a cream colored suit with stellar looking tan dress shoes.
The couple will hold their wedding reception at the same hotel the Mandarin Oriental Hotel on November 15, 2012. They will hold a third event for their wedding at the Nakha island in Phuket province on December 1-2, 2012.
This year, I have yet to see an ugly bride, they have all been beautiful.
Getting ready.
Her close friends Woonsen, Cris Horwang, and Ch3 leading actress Janie
Hi everyone, we are engaged!


Her posse of friends and family–today Om Piyada is officially her cousin-in-law. Om's husband Art is related to Puri.

Invitations


Walking down the stairway to meet the press, friends, and family.

Hugging an elder, I believe that is her dad.
The bridesmaid–Paula Taylor with her daughter, Janie, Cris, Woonsen, the very pregnant Nana (having  twins boy and a girl) and Jane.

Sandwiched between Jeab Sopidnapa and Aom Piyada.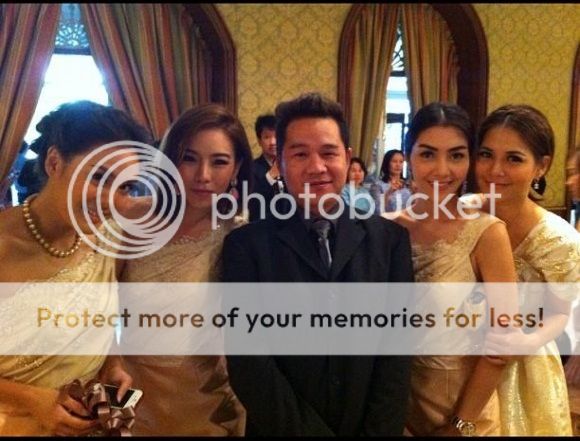 More pictures of her friends, Pim is included in this picture.

Among friends–Jui, Jeab, Pim, and Aom

To wai 
Source:
sanook