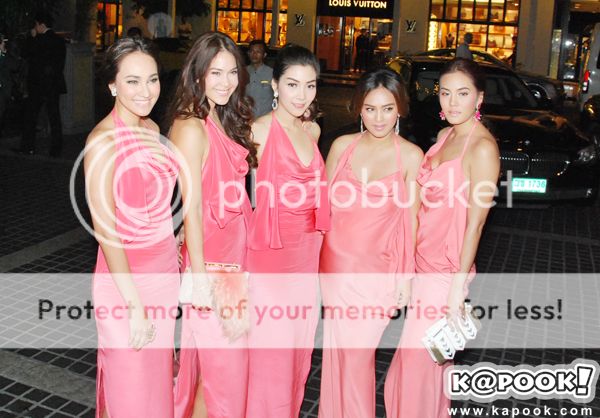 Thai celebrity weddings are filled with high fashion, high glamour. I wonder why it is not like that for Thai award shows. Everyone looked beautiful and handsome for the event.
The bride and groom with leading actress Noon and her husband Todd.
The two best buds, Jeab and Aom.
Pim and her longtime boyfriend Wan. They broke up a few months ago and got back together. Captain, just because he is pictured alone, he is seeing someone. She is there at the wedding too.
It is a sign, guess who caught the wedding bouquet–actress and singer 'Pim' Pimmada Borriruksooppakorn, a long time friend of Puri Hiranpruk. And guess who she is dating–'Wan' Thanakrit Panichawit.  But why does her face look weird in this picture. Angle?
Look very carefully–Captain and Ek. More than friends?
Chakrit Yamnam and his wife Woonsen.
Hey it's Jun from the Kitchen Scholar all cleaned up in nice clothes. It's not Jun, it's actor 'Tuck' Boriboon Chanruang
This dress on Noon/Nune is stunning.
Noom and his wife Fai. To your right, we have senorita Pitta Na Pattalung.
Cris Horwang and her boyfriend Junior, are they still dating? I think they might be.
Nok Sinjai and 'Ek' Butsakorn Tantiphana (Sao Noi)
'Vill' Wannaros Sonthichai and Pong Nawat
Aerin and long time love Ryan Jett; Hugo Jakrapong and his wife Hanna.
Source: Kapook