A good episode because we saw less of the jealousy ex-girlfriend Ravee–she was too busy trying to get out of a force marriage with Don. They are so perfect for each other, they have issues–parental issues, jealousy issues, they both need an appointment with a therapist. It's good to better oneself. Honestly it doesn't hurt to do so. Just saying.
Pitt has been subtle with his feelings for Kratae, it's quite obvious he loves and cares for her but for whatever reason can not show it. He tells her all the time, he cares for her, he shows it in his actions too by being a dutiful husband, even  though their marriage is fake. Kratae at the beginning was a brat  because she had a lot of vented up feelings for Pitt but did not have an outlet for it. She couldn't tell him because of her pride and fear of rejection. He was dating Ravee at the time too. She probably felt frustrated, I would be. Now that they are married, we see a calmer side of Kratae, she has been receiving from Pitt what she has always wanted, his attention–his love in a sense.
Pitt is now showing signs he wants more from this fake marriage. He is making the moves on Kratae. Like when he said 'this is my WIFE' to the couple at the horse farm, he meant the word wife–like yah man, this is my woman! Even Kratae can sense he meant it.
When they slept together, not sexually people, get your head out of the gutter–just on the bed together, he was badly beaten up and he was in a lot of pain yet he made the effort to turn to face Kratae's back to watch her go to sleep. Let me repeat, he turned to his side in pain just to look at her back–it's not even her face.  If that is not some serious love and yearning, then I don't know what the heck that was.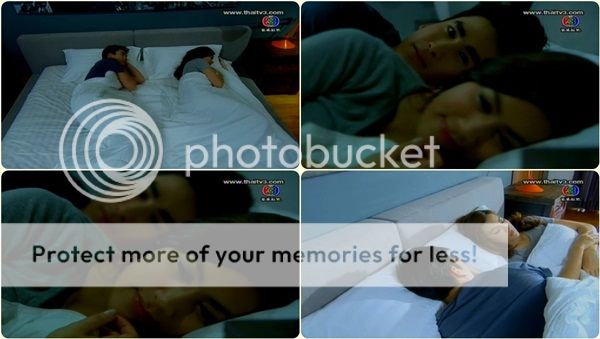 He didn't want her to sleep on the couch, he invited her into his bed. Though in pain, he turned to his side to watch her sleep.
The next morning, they woke up facing each other. Sup. Good Morning. Kratae gets up first because this is awkward.
He went to Kao Yai for work and she followed him there with his medicine and got into an accident. She got lost, there was a thunderstorm, and a large tree branch fell on top of her car. When he found her, his car got stuck in a ditch, his phone was broken and her phone was out of battery and they had to seek shelter overnight in a horse stable.
Pitt telling another couple that Kratae is his wife with tenderness and pride.
This couple and their rice porridge, I have noticed they eat a lot of rice porridge every other day. Rice porridge is good for sickness, in this case it's legitimate. She has a cold from being in the rain all night and he has to take pain pills for his bruised body from getting beat up.
After taking the pills, he wraps her up in a blanket and surprisingly wraps his arms around her. Where did this come from?
Pitt:'Thank you so much for driving here personally to give me my pills.I am really happy that you were worried about me.'
Kratae playfully:'Who said I was worried about you? I was worried about my father's business getting ruined instead.'
He smiles and squeezed her tighter and she tells him to go back to work. If not, he might not get done. They were planning to go on their honeymoon trip to the beach before this all happened.
Pitt wakes late into the night and decides to go to sleep. He walks pass the living room and sees his wife Kratae asleep on the couch. He covers her with a blanket and watches her with concern. He goes in for a kiss on the cheeks and tells her quietly: 'if anything happens to you, I will never forgive myself.' Dude.
He slept with her on the couch, the next morning when she wakes up, he distracts her by feeling her face for a fever. 'Your fever went down.' Smooth.
He goes in for a kiss but she falls off the couch. Smooth again. Hahah.