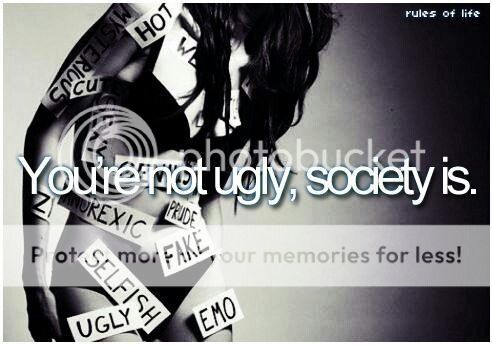 Lady Gaga is engaged to a guy whose hometown is in my area. The topic of them came up at work last week, it was all fine until someone had mentioned she was ugly and needed a nose job and her zany outfits doesn't help her appearance. I was not part of the conversation.
Fine, those are your opinions and they are objective to your preference but to say someone needs a nose job I thought was MUCH. I am not a Lady Gaga fan, I do listen to some of her music. I will never attend a Lady Gaga concert. Her outfits are out there but she is an entertainer, as a person who is interested in the varied and unique style of Japanese street fashion (you know those fashion statements are colorful and nutty), I am not provoked by Lady Gaga's meat Flintstones' styled dress or anything she wears. To me, to be different and to do it well deserves a compliment. Lady Gaga"s outfit don't look cheap, they are different but well made.
I don't understand the judging between women against other women  or the body shaming. She looks ugly in that, she is too fat, too skinny, she needs a nose job, she needs to work on her thigh gap, she is wearing this and that wrong, she needs that done to look better. Excuse me? No wonder DOVE put out a campaign to help women accept oneself, to boost women's self-esteem and I thought good golly.
When I look at someone, I see them. I rarely think oh she is ugly or she needs this done. Or her outfit is jacked up. I have never been targeted but to be around women who superficially bash other people on how they look and wear, it's draining when you don't really care and you wish they had their mean girl festivities far from your  hearing range. You gotta love those ladies who had to share that some girl's pants makes her look fat and you're all stupefied because you saw the same girl earlier and you didn't think much of it.
Unless for medically reasons, I don't see the necessity of plastic surgery. Getting a nose job to help you breath better, yes, if that is such a thing. Getting a nose job because you want to look like a certain celebrity, get out of here. NO.
I don't understand the compelling need to look like anything other than what you genetically inherited.  There are certain days when I feel ugly, but there are more days when I don't even think about my looks.